Tomar (Portuguese pronunciation: [tuˈmaɾ]), also known in English as Thomar, is a city and a municipality in Santarém District in Portugal. The town proper has a population of about 20,000.
The town of Tomar is one of Portugal's historical jewels and more significantly was the last Templar town to be commissioned for construction.  It was born inside the walls of the Convento de Cristo, constructed under the orders of Gualdim de Pais, the fourth grand master of the Knights Templar in the late 12th century.
In 2013, The Guardian elected The Convento de Cristo in Tomar as the most spectacular place to visit in Portugal, "…founded by the Knights Templar, it's a beautiful, mysterious and magical place, wonderful to discover and enjoy."
The Travel Channel considered it one of the most beautiful places of the world:
PROPOR2016 takes place in Hotel Templários: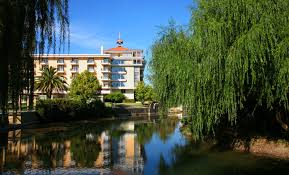 Hotel dos Templários
Largo Cândido dos Reis, 1 – Apartado 91
2304-909 Tomar
Portugal
(LAT) 36.461, (LONG) 24.850
Tel. + 351 249 310 100 | Fax + 351 249 322 191
The Tomar bus station and the train station are right next to each other. From there to the hotel, it's a 10-minute walk map.
See here some more pictures of the venue: